1) Show the video!
Governor Patrick talks about
a video that he did not see
. We will most likely not get to see it either..
http://www.infowars.com/mass-gov-deval-patrick-declares-video-shows-clear-involvement-admits-he-never-viewed-video/
Boston Bombing: MSM Creates New Official Story – Video of Dzhokhar Planting Bomb is Forgotten
2) MSM Creative on its own?
HuffingtonPost :
NY Daily News Edited Front Page Photo Of Boston Tragedy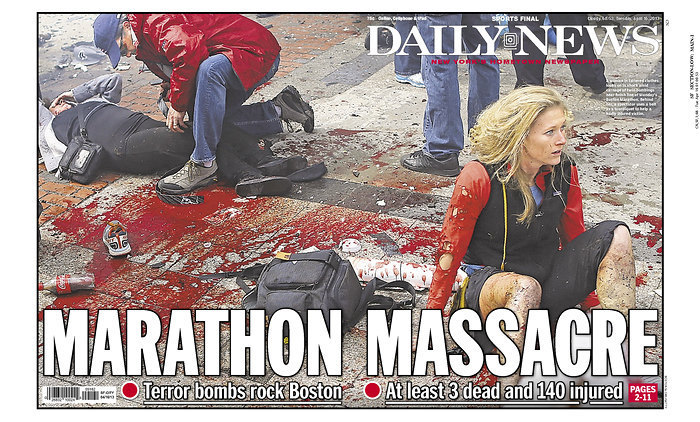 added: NoDisInfo.com :
Boston Hoax: Was Fake Gore Put in by Photoshop?
Youtube :
Side by Side of Real & Fake Boston Bombing Photo - What These People Are C..
I don't know if you explained it this way, but I see that move was made by MSM to put up a cover for the fact that truthers are finding the blunders that give away the truth in these images, hence now the sheeple can say, well the photo has been shopped by MSM for a good cause.
StuartWilde :
New York Times Fake Story:
He said: "There's a video where he goes right to Jeff, picks him right up and puts him on the wheelchair and starts putting the tourniquet on him and pushing him out. I got to talk to this guy!"
3) Slip out '2 actors': Boston police commissioner refers to suspects as actors
infowars.com :
Boston police commissioner calls brothers actors
fox original :
Police commissioner Ed Davis tells
something about a cutoff :
https://www.youtube.com/watch?v=jMni_JijqfU
4) David Green picture:
The younger brother wears a light colored/ grey backpack. He is wearing it on his right shoulder only. See 1:10 into this video:
http://youtu.be/Sqjt9vOJ1eA
According to FBI both bombs were in black backpacks (link here pls).
When leaving the scene the backpack could be: a) in his right hand, hidden behind woman, b)on his right shoulder, hidden from view, c) photoshopped away. There may be photo's that appear doctored: See 1:36 into
http://youtu.be/Prk9V8vDiJA
.
Because of option a) and b), this 'leaving the scene' photo does not proof anything.
5) Number on hat , 3 or 7 ?